There are so many fantastic apps for concert lovers! If you're like me, you consider yourself a music junkie. That means buying tickets, waiting in general admission lines, and binge-watching your concert videos are a constant in your life. These apps for concert lovers are here to make your life a bit easier! Let me know which apps you love to use to keep up with the concert world.
---
1

Livenation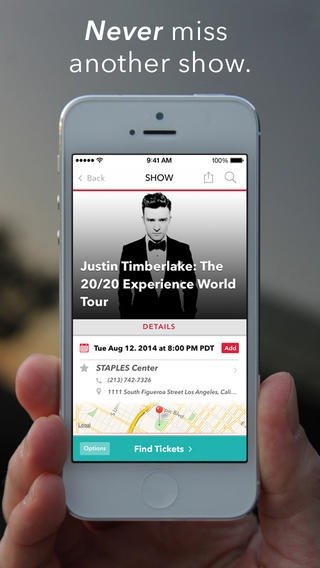 On iTunes: itunes.apple.com
Price: Free
LiveNation is definitely one of the best apps to download if you're constantly hitting up different concerts. It brings you concerts, festivals, and tickets all in one app, personalized just for you. The app scans your iTunes library to help track your favorite artists. It pays attention to the artists you love and gives you alerts and updates. How awesome is that? With quick ticket purchasing, this app makes concert life way easier. It's just one of many apps for concert lovers to download.
---
2

Bandsintown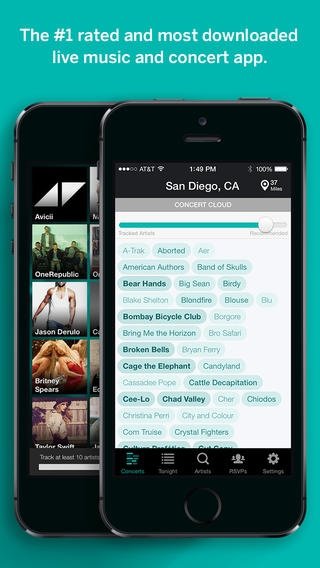 On iTunes: itunes.apple.com
Price: Free
This app provides a personalized concert calendar and serves as a way to track your favorite artists while helping you discover new touring musicians, based on your musical preferences and location. That way, you'll never miss another live show! With the app, you'll get concert notifications for your favorite artists and always be the first to know when they're coming to your town. You can browse upcoming tour dates for any artists and buy tickets from within the app!
---
3

Loudie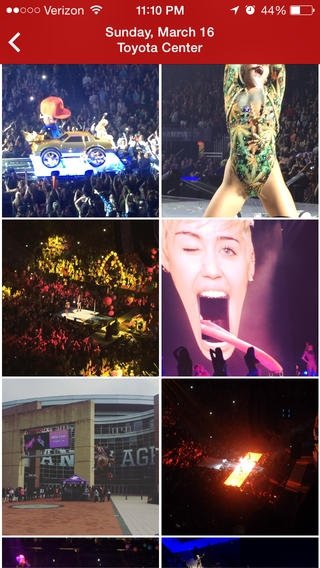 On iTunes: itunes.apple.com
Price: Free
This app lets you discover new concerts, see what shows all of your friends are going to and gain access to FREE tickets! You can watch concert video uploads for your favorite artists from their concerts and receive recap notifications in the morning to see awesome footage from the night before, and so much more. The app even allows you to view live concert video uploads while they're happening anywhere in the world!
---
4

Songkick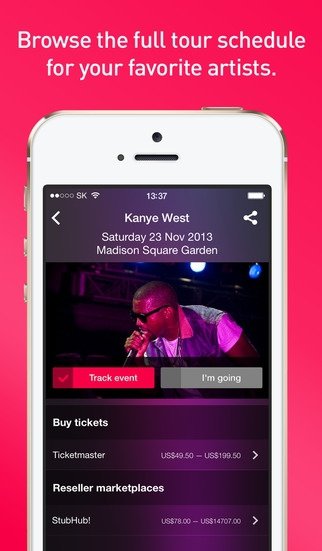 On iTunes: itunes.apple.com
Price: Free
On SongKick, you can create a personalized concert calendar! The app scans your music library to track your favorite artists and then alerts you whenever new concerts are announced. For every concert or festival, the app will show you the full line-up, venue map, and allows you to invite all of your friends! You can compare all ticket options and prices and then buy the tickets right from the app.
---
5

Big Day- Event Countdown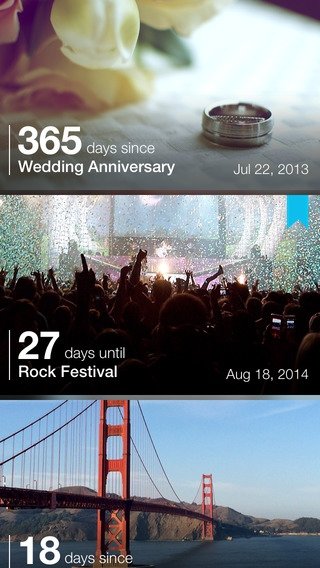 On iTunes: itunes.apple.com
Price: $0.99
This app is a must-have! If you're like me, you go to multiple concerts each month. With this app, you can add multiple events to your countdown. It'll keep you feeling excited until the big day finally arrives! It'll also help keep you organized and make sure you don't forget whenever something's going down!
---
6

Stagepage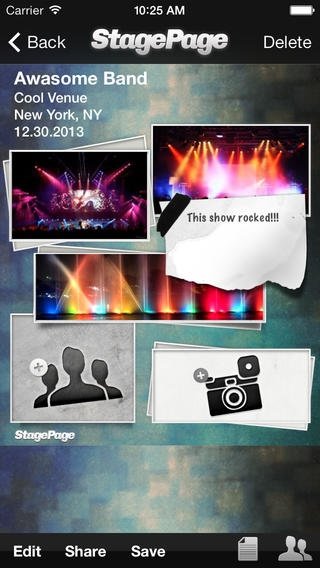 On iTunes: itunes.apple.com
Price: Free
If you love sharing all of your concert memories, this app is great for you. It's an awesome new way to capture, save, and share all of your concert experiences through a virtual collage memory page! You can upload a picture of your ticket stub, photos/video from the show, and then edit them all by incorporating cool special effects! Document who was there, add the concert set list, commentary, and more.
7

Concert Vault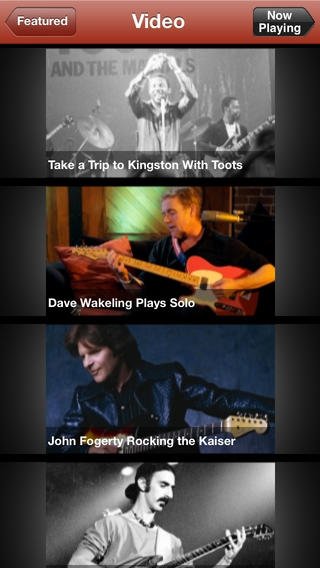 On iTunes: itunes.apple.com
Price: Free
This app brings you the world's greatest collection of live concert audio and video recordings! The app is free but you must be a Concert Vault member to use it. A free 14-day trial membership is available to try out when you get the app! Members can listen to latest additions, most popular concerts, custom playlists, and so much more!
Well, there you have it. These are just seven out of many awesome apps that every concert lover needs to download! As a concert junkie myself, I find all of these apps extremely helpful. Of the list, which app do you love most?
---
Comments
Popular
Related
Recent