I have to tell you, I love finding new coupon apps almost as much as I love saving money on my purchases! Coupon apps are getting better with each one that is made, but what most people don't know is how many unique ones are out there, amongst the more popular ones. Here, I'm sharing my favorite coupon apps that many people either don't know about or don't make use of, but I hope that will change after reading this. These apps can save you major money, time and stress by taking the guesswork, physical work, mathematical work and traveling work out of your life when it comes to shopping and saving money. Download all these apps today since they're all free, just like all coupon apps should be, of course!
---
1

SnipSnap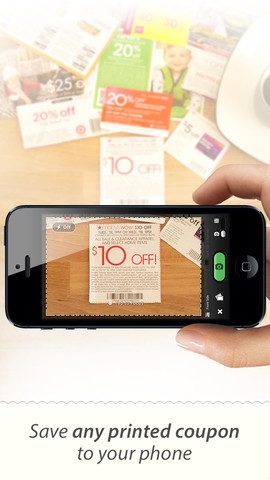 **On iTunes: **itunes.apple.com
SnipSnap has been a favorite of all coupon apps to download because it allows you to eliminate the need for paper coupons at the store. Just take a picture of your coupons or offers, and SnipSnap automatically converts it into a mobile image version that can be scanned at the store. I love this idea since I'm terrible at losing coupons or forgetting to bring them with me to the store. I like that it is also eco-friendly since I can take a picture of my coupons and then either donate them, avoid printing them or recycle paper ones later. It was also understandably rated the Best Shopping App of 2013 among About.com's Reader's Choice Awards. My favorite part is it will send you an alert if you have a coupon fixing to expire, since I'm notorious about letting good coupons go bad! Leave your scissors at home and download this easy app to save more money and more wallet space!
---
2

The Coupons App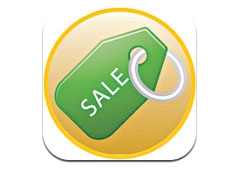 **On iTunes: **itunes.apple.com
This app was one of the first coupon apps on the iTunes store and is still one of the top coupon apps that is downloaded today. Just like the name says, this app gives you all the coupons of your favorite stores and even your favorite gas stations, restaurants or other local facilities. You also get updates of new specials, discounts and alerts when coupons expire. If you want a great overall coupon app, be sure and keep this one on your phone as it is a real keeper and good to have if you visit local facilities that offer discounts often.
---
3

CardStar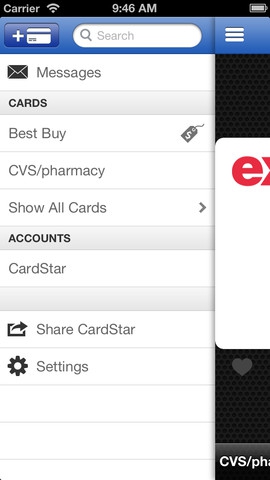 **On iTunes: **itunes.apple.com
If you have a key ring that looks like mine used to, boggled down by tons of store perk cards, then you have to download this app! No more sifting through all those store reward cards during your checkout, because this app does the work for you. It stores all your loyalty cards to each store in one app and allows you easy access to them, along with all your points, discounts, reward opportunities and more. You can shop sales at each store on the app as well, and it will automatically notify you of items that you purchase regularly which are on sale. Simply import your cards and information through the app, which is also safely secured through a password feature, and scan those at the register instead of an actual physical card. My key ring is lighter and so is my free time because I never have to sort through store discounts again; with this app, everything is done for me.
---
4

Pushpins Grocery Coupons & Lists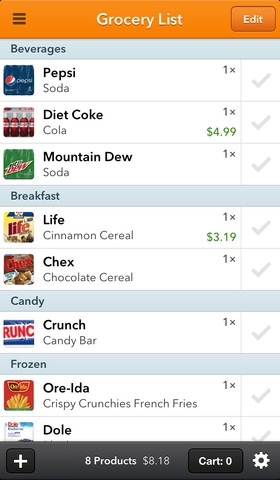 **On iTunes: **itunes.apple.com
I have a nerdy secret to share with you all. I actually love making out my grocery list, organizing it by aisle and creating little symbols beside items I have a coupon for. I never carry those huge coupon notebooks some people carry in stores, because my lists are already organized so I know what I have a coupon for, and my coupons are already organized to match my list. I told you; I'm a nerd! However, this app takes all the fun away from me, because it assists me in this process, and creates and syncs my grocery list with store coupons and manufacturer coupons. I can even share the app with anyone I want, like my mom if I know she might be buying some of the same things, or if I want to share weekly specials and coupons with her. On top of that, I even get free recipes that correlate with items I'm buying and the app tracks my spending. I told you; this app might take all my fun away, but it sure is handy! Oh and don't worry if you're out of town. The app will notify you of local stores and send you correlating coupons as well! Brilliance, I tell you!
---
5

Compare Me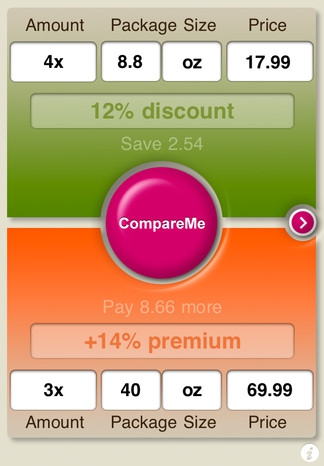 **On iTunes: **itunes.apple.com
I don't obsess about comparison shopping, but I do have a few stores I like to compare prices between. It can be a little daunting when it comes to saving money sometimes. I mean, should you buy in bulk or buy different sizes and quantities to get the most of your money? I've never enjoyed extensive math, and don't like ruining my grocery trip through extensive multiplication, division, etc., but I do like saving money. The CompareMe shopping app totally takes care of this problem. It automatically compares all contrasting products, stores, and package sizes to tell you what will save you the most money. I'm actually a little stunned by how smart this app is! It is a perfect example of how technology takes care of the work for us. Do yourself a favor, and save yourself a headache by downloading this app. You'll be amazed how much you'll use it!
---
6

Red Laser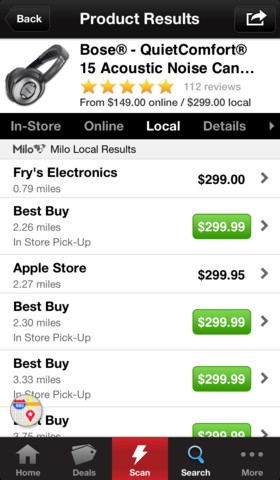 **On iTunes: **itunes.apple.com
Point, scan and click your way to saving money with Red Laser, one of the highest rated apps on the market today. Red Laser allows you to scan a barcode (UPC and QR) of a product and it will automatically search local and online retailers for the best price to save you the most money. This app puts thousands of coupons, deals and discounts through loyalty cards all at your fingertips to give you the final price so you can save more. I love that this saves you time, gas money and the trouble of sifting through different offers at local stores and online. Even if you enjoy looking through store sale papers for fun like I do, with this app, you don't have to!
---
7

Coupons.com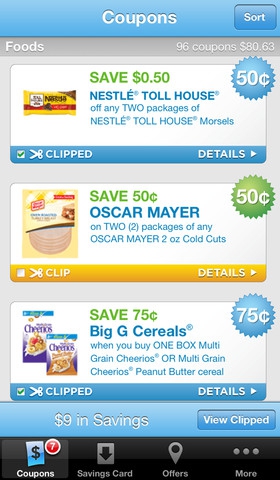 **On iTunes: **itunes.apple.com
Home of the famous Coupons.com website database, which includes hundreds to thousands of manufacturer coupons updated weekly and monthly, this app is simply a free version of the website at your fingertips, through which you can view and clip coupons on your phone. You can even send them to a wireless printer if you want to print them, or email them to your inbox for convenience to print later or send them to someone you know. This app also keeps track of your store loyalty cards and coupons and even allows you to upload the clipped coupons to your iPhone's Passbook feature to store them for use. If nothing else, checking the list for new coupons is always a great idea so you can easily get the best deals each week you shop.
---
8

Ibotta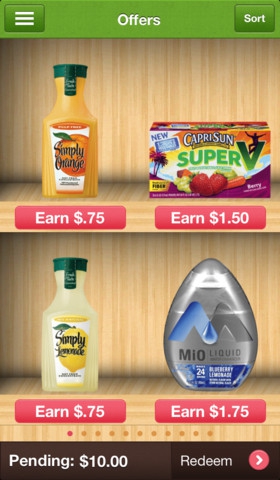 **On iTunes: **itunes.apple.com
This app is one of the newest gaining popularity, and one of my personal favorites. Imagine being able to get rewards, rebates, coupons, savings and discounts all at the same time from all the brands and products you purchase on a regular basis, and having those turned into cash on your mobile device. With Ibotta, you can! Each time you purchase any item, snap a picture and upload it to the Ibotta app. You can also use store coupons, discounts, and manufacturer coupons and discounts with this app, the same way you always do. You'll get rebates and cash offers and specials on items you purchase, which have coupons applicable through Ibotta's weekly coupon database. You'll be sent regular coupon offers and new special offers through the app as well. You also get paid to refer friends, take surveys, take part in bonus offers, and do reviews online. Though I'm new to regularly using this app, I love the idea of making money through buying your groceries with an app that is 100% free! Participating Ibotta stores can be found online at the Ibotta help desk here: ibotta.desk.com.
---
9

Yowza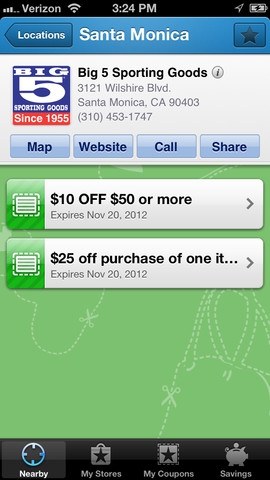 **On iTunes: **itunes.apple.com
This free app eliminates the need for you to clip coupons like many other apps out there do. Just click on the app, and it automatically alerts you of all coupons and deals in your local area. Some coupons come from merchants themselves, meaning you might not find them elsewhere. You can save all coupons found through Yowza and cashiers simply scan them at your local stores. These coupons work just like paper coupons as long as stores in your area participate in mobile coupon use. My favorite part about this app is that it allows you to share the deals with others, contact the store directly through information automatically provided with each deal, and even gives you a map of where to find the store. This is especially great for when I do my grocery shopping as I travel and am not as familiar with the area.
I know all of you love saving money like I do, but don't always know of all the best ways to go about it, or you get so busy, you forget to do a little bit of mobile work before you go. Now, with these apps at your fingertips and very minor prep work, you can easily save more money every single time you shop. Do you have a favorite coupon app, or use coupon apps?
More
---
Comments
Popular
Recent