Education on the go is so easy with a smartphone or tablet, and the best apps for learning a language also add the fun element. There is no substitute for learning a new language by immersing yourself in it and being able to practice as much as you can. The best apps for learning a new language allow you to learn and practice anywhere. Here are some great language apps you'll find more than useful.
---
1

Duolingo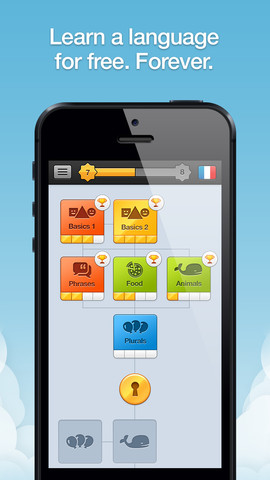 itunes.apple.com
The great thing about apps is the different ways they can enhance the learning experience. The best apps for learning a language should be interactive and interesting, and you get that with Duolingo for free. If you're the kind of learner who enjoys quizzes you'll find Duolingo attractive, as much of the learning is via rapid-fire quizzes which test writing, listening and speaking. As you progress, higher grade lessons are unlocked. At the moment the language choices are English, Spanish, French, German, Portuguese and Italian, but more are promised.
---
2

Learn Spanish – Free Wordpower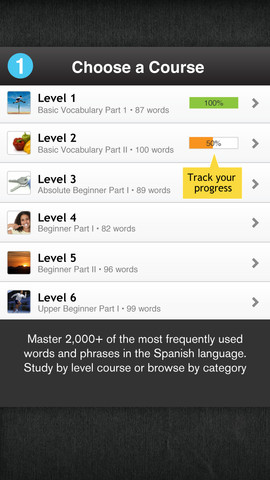 itunes.apple.com
I've picked Spanish, but there's a whole range of language learning apps available from Wordpower, including Japanese, English, Chinese, Polish, German, Italian and Filipino – actually 34 in total. The free version is quite basic in its premise, in that what it provides is 200 essential words of the language to learn along with the correct pronunciation. It also acts as a mini travel guide with some nice cultural insights to the country whose language you are learning. If you want to upgrade to the paid version, you get 2,000 words and more functions.
---
3

Learn French with Busuu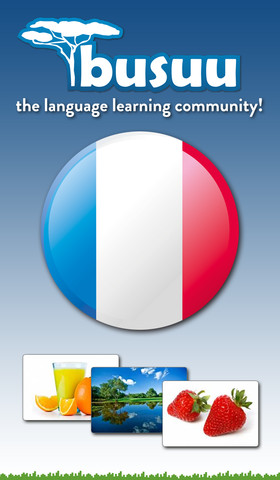 itunes.apple.com
With 7 languages to choose from, Busuu is one of the best apps to learn a new language for students who work best with audio-visual methods. The 7 languages are French, English, German, Spanish, Portuguese, Italian and Russian. The app can be used without Internet connection and contains a dictionary of 3,000+ words, 150 dialogues and interactive exercises. I like the mistakes overview, which keeps track of your problem areas to help you improve them.
---
4

Book 2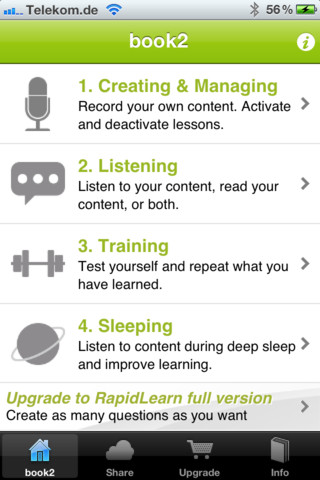 itunes.apple.com
I really like this one. Whilst it has all the standard features you'd expect of language learning apps, it has the extra special option of enabling learning while you sleep. It kicks in at your most receptive stage and uses the power of your sub-conscience so that when you are learning the language in reality, you will find it a great deal easier as the words and phrases will already feel familiar. Book 2 is currently available for 40+ languages from Afrikaans to Vietnamese and is free, and to progress further there are paid upgrades.
---
5

World Nomads – Japanese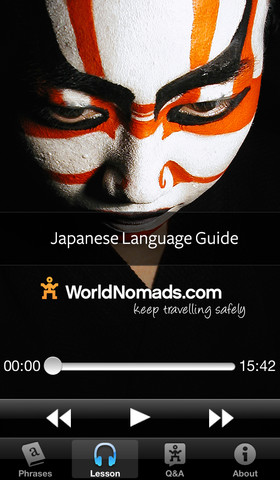 itunes.apple.com
With a choice of 23 languages, like most free apps for learning a new language, World Nomad apps will give you a nice feel of the language and take you to the intermediate stage of learning, ready to move on to more advanced learning – which of course is not free. As the name suggests, World Nomads is great for travelers who want access to the most well known words and phrases, but it also provides an excellent platform for novice learners.
---
6

Learn Polish with Michel Thomas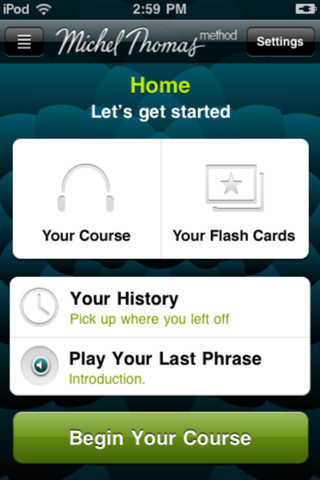 itunes.apple.com
The foundation of the various apps in this series is on learning the language in as natural a way as possible, as if you're living in the native country yourself. It is meant to be effortless and claims to provide fluency in 8 hours. It is an all-audio method that works through repetition of key phrases, which are also explained. It's a very nice looking app and the flashcards are a fun feature. There are currently 10 languages available, including Arabic and Mandarin.
---
7

Learn French with Babbel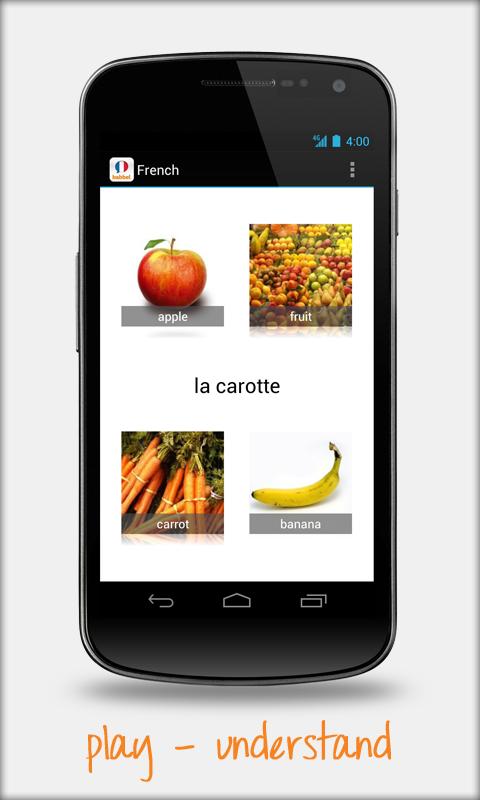 itunes.apple.com
Babbel.com is one of the world's leading providers of language courses, so it is only natural that they produce language learning apps to support their web based courses. There are currently 13 languages available, including Turkish, Danish and Indonesian. The free apps are fairly basic, because obviously they want you to sign up to the full course proper, but as a supplement to expand your vocabulary and practice your pronunciation, this is a top name you can't ignore.
What you consider to be the best apps for learning a language will largely depend on how you like to study. With so many freebies available you can pick and choose a few to try to see which kind suits you best. I'd love to hear your own recommendations.
More
Comments
Popular
Recent