If you have a smartphone and you happen to love tea as much as I do, then be sure to check out some of the hottest tea apps out there for all tea lovers like myself. From herbal tea, to green tea, to white and black tea, all forms are chock full of antioxidants, mind and body benefits, and can even reverse the signs of aging. Luckily, if you have no clue where to start when purchasing or choosing teas, there are some fabulous apps out there to help you out! Whether you have an Android or iPhone, I've got 7 tea apps that you can easily access on the go, whether at your local market or a tea house. Enjoy your next cuppa with a new sense of appreciation with the help of these ridiculously helpful apps.
---
1

Tea for IPhone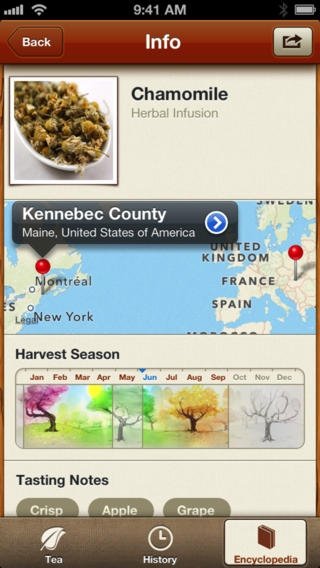 On iTunes: itunes.apple.com
The $1.99 Tea app for the Apple iPhone is one of the simplest tea apps to start with, yet it's pretty informative too. Even I learned quite a bit with this app, and I already knew a good bit about tea since I drink it daily. The Tea app has an actual encyclopedia to teach you about every tea out there that exists. It also has tips for brewing, tips about how to choose teas from different parts of the world, and even gives their specific harvest season so you know how to buy the freshest tea. You can create lists of which teas you want to try and buy, create alarms for brewing times, share your favorites on Facebook and Twitter, and even learn about which teapots are best to brew your tea in for the best flavor.
---
2

Teavana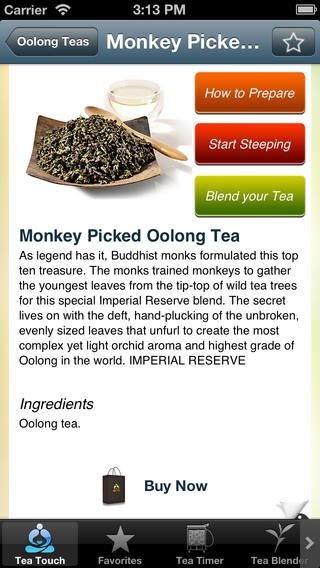 On iTunes: itunes.apple.com
Teavana is an actual brand of tea and they've created a useful app for iPhone and Android devices that any tea lover can use. Teavana is a nice basic tea app that's free and helps you learn the basics about brewing your tea. It features a musical timer, tips for steeping and blending custom teas, detailed information about the health benefits of steeping instead of boiling your tea, and helps you find local stores that carry your favorite Teavana brand teas. You can also use social media to share your favorites through Facebook so your friends can see what you're sipping on!
3

Camellia Tea Timer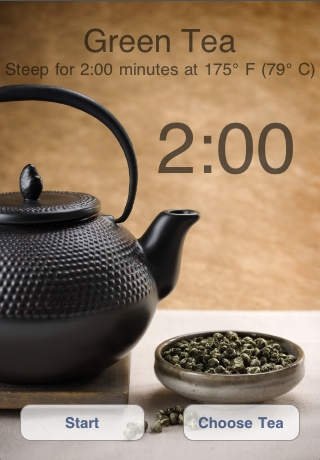 On iTunes: itunes.apple.com
If you simply want a helpful timer to help you brew your tea, this one is a nice app to help you out. The Camellia app is more than just a timer, though, so it's definitely worth downloading, plus it's free. It has a nice, easy to read breakdown of how long each type of tea needs to brew, and will automatically set the right time depending on the tea you choose for that specific tea. Want a cup of green tea? The Camellia tea app starts the timer with a time of 2 minutes, and tells you to make sure the temperature doesn't go above 175 degrees.. How about a cup of rooibos? With one touch, you'll have a cup of hot red tea in your hands in 6 minutes. I think this is a great app for someone like me who's somewhat familiar with varieties of teas and which ones I like, but has no idea which teas require what brewing time. Plus, this might just keep me from leaving that teapot on the stove too long. I hate to admit I tend to do that pretty often and have burned up a couple of teapots in the process!
---
4

Aromatic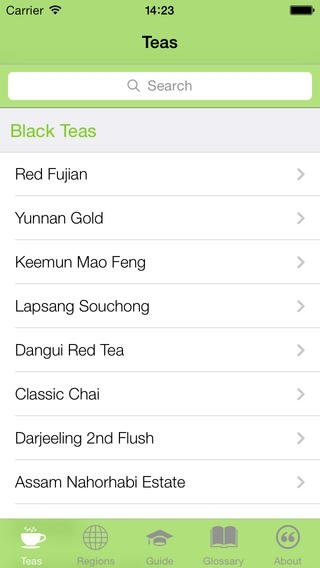 On iTunes: itunes.apple.com
This $2.99 app is pretty impressive if you're really into learning where certain teas come from, along with their antioxidant content depending on the processing and harvesting process. The Aromatic app features over 175 varieties of tea, a map of where they come from, and everything is organized by both type of tea, and the origin each one comes from. In Pursuit of Tea created this app to help people learn about not only which teas come from what parts of the world, but also to teach people about certain flavors and brewing tips to help them choose the best tea. I love it best for the helpful tea glossary, which has information about any tea you'd ever want to learn about, plus a map of the origin it comes from, and where you can find it in stores..
---
5

A Perfect Cup of Tea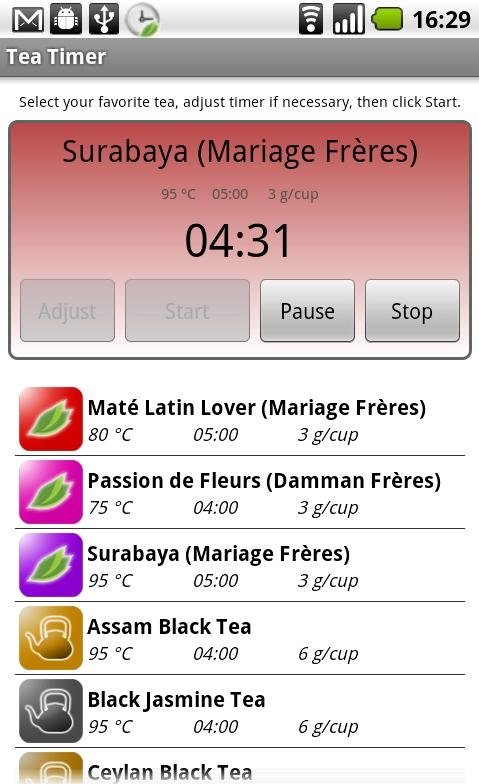 On Google Play: play.google.com
Alright Android users, this app is for you if you love tea and want a helpful timer to brew you the perfect cup of tea! A Perfect Cup Of Tea is not only user friendly with a gorgeous, interactive color scheme, but also simple to use. Here's the basics: You can pick between 19 different types of pre-installed tea types, select temperatures and brewing times, or you can choose your own custom blends and get the perfect brewing time. Just simply set the timer and within minutes, you'll have a hot mug of comforting tea to enjoy!
---
6

Tea Making Recipes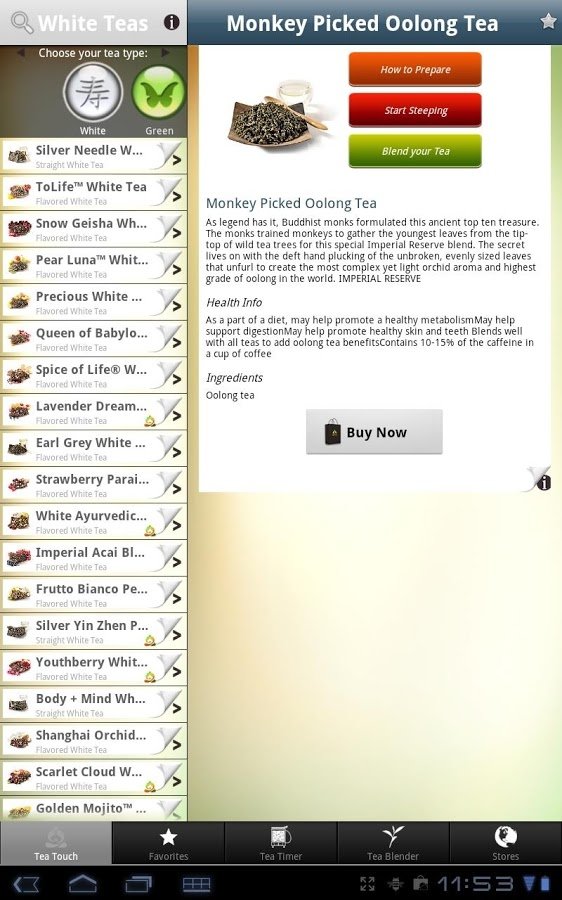 On Google Play: play.google.com
This app is also for Android, and is one of the only tea apps to get 5 stars by Android users. Tea Making Recipes comes with pre-installed recipes to help you custom blend teas to get the perfect cup, and it has a guide to creating your own recipes, based on flavor profiles of each tea, along with brewing tips. For instance, it helps you know how long to brew a tea blend so it doesn't become grassy or bitter, and it will also help you learn which types of teas taste best together. Lastly, it also has fun health benefits about each tea, so you can even create your own medicinal teas with a purpose.
---
7

Tea Collection Inventory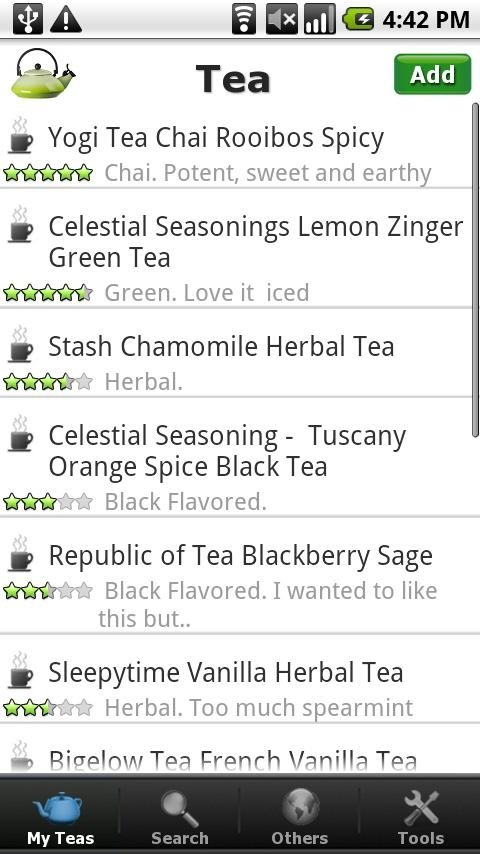 On Google Play: play.google.com
Another Android app to receive 5 stars is the Tea Collection Inventory. I'm pretty impressed with this app because it doesn't feature just one sponsored brand of tea, but a total collection of all types of teas and brands on the market. The point of this app is to help users keep track of their favorite teas, flavor profiles, brands, etc., and be able to access them on the go from anywhere. I think this would be incredibly helpful at the store, when I can't remember all the teas I've run out of at home. Plus, it would be helpful when choosing new teas at the store, since you can read about different teas and brands right through the app, before you even get to the store.
Are you a tea lover? Perhaps you have a fabulous tea app you can share with us! Tell us what apps make your tea drinking experience even better and which ones you'd advise us to download.
---
Comments
Popular
Related
Recent