You never know when a sweet-tooth craving will hit you and that's why it's SO important to be prepared! These wonderful apps will help you satisfy those cravings by offering you some sweet recipes, a shopping list, how-to videos, and so much more. Whether your weakness is chocolate, cookies, candy, etc., you'll find all you need here!
---
1

IChocolate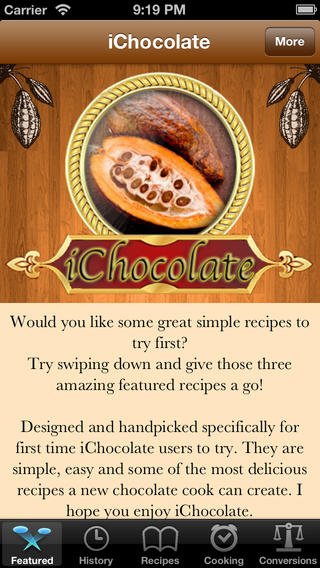 On iTunes: itunes.apple.com
Price: $0.99
Chocolate lovers, this one's for you. On the app, you can get fantastic, beautiful and tasty Chocolate recipes - an absolute must-have for any chocolate enthusiast. The app offers expert tips, the level of complexity for each dish, and even gives you the history of chocolate! It's pretty fascinating.
2

Candy Recipes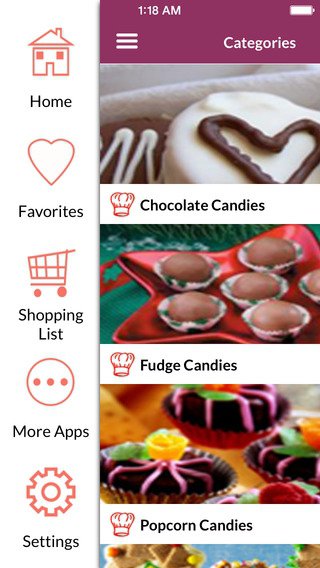 On iTunes: itunes.apple.com
Price: Free
So many goodies! This app offers the biggest collection of the best candy recipes with beautiful photographs and easy-to-follow instructions. With every recipe, you'll see cooking, shopping and nutrition tips. It'll easily satisfy that sweet tooth of yours! What do you think you'd make first?
---
3

Martha Stewart Cookies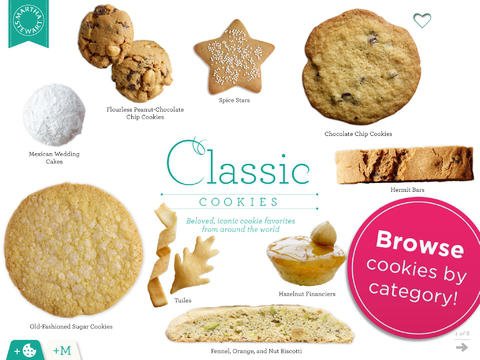 On iTunes: itunes.apple.com
Price: $1.99
Want to make some cookies? Well, learn from the best! This app offers six recipe bundles, instructional videos, baking tips, packaging ideas, kitchen timers, shopping lists, and so much more. I mean, you'll start to wonder how you even baked cookies without this app! You can browse through the cookies by categories like "classic cookies," "kid's cookies," "giftable cookies," "chocolate cookies," etc. Which kind would you make?
---
4

Wilton Cake Ideas & More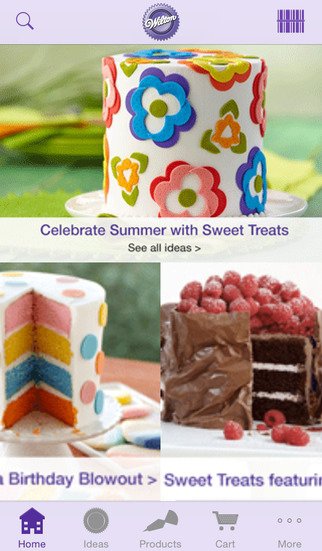 On iTunes: itunes.apple.com
Price: Free
If you weren't already in the mood for some cake, prepare to have some serious cravings because this app's got you covered in that department! On the app, you can browse through thousands of inspiring treat ideas (all with easy-to-follow instructions) and develop your baking/decorating skills! You can search recipes using keywords to easily filter the photos by occasion, theme, or difficulty level. Cake lovers, you'll LOVE this app.
---
5

Dessert Recipes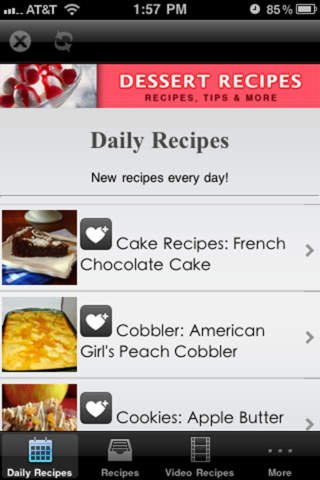 On iTunes: itunes.apple.com
Price: Free
This app is sure to satisfy anybody's sweet tooth! On it, you'll find all the dessert recipes you could possibly need. Seriously, there are over 325 delicious recipes and they're all broken down into convenient categories according to the type of dessert you're craving. It even offers video tutorials so you'll know exactly what you need to do! What are you waiting for? Go on and make some cookies, brownies, cupcakes, whatever your heart desires!
---
6

Pinterest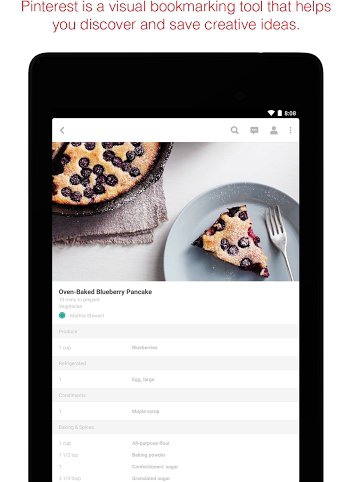 For Android: play.google.com
Price: Free
Don't forget, you can find anything and everything on Pinterest! You could even find a bigger variety of recipes and techniques people post something new everyday! It's all very easy to find recipes of treats that are gluten-free, dairy-free, or whatever dietary restriction you might have. Once you become a pro at creating all these treats, you can start making your OWN recipes and sharing them with everyone via Pinterest!
---
7

Cupcake Recipes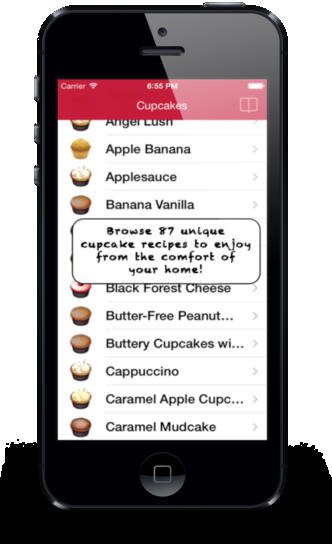 On iTunes: itunes.apple.com
Price: Free
Mmmm, cupcakes! While chocolate and vanilla are still classic favorites, this app offers a variety of different flavors to try! There are 80+ easy and delicious cupcake recipes and you can save your favorite ones with the touch of a button!
Well, there you have it! These apps are a must-have for anyone with a sweet tooth. Whether you're baking cupcakes, cookies, or making fudge candies, you'll be happy you downloaded these!
---
Popular
Related
Recent