If you're anything like me, you fave pieces are always getting lost in the huge mountain of clothes bursting out of your closet, or maybe you just have trouble deciding on wear to wear each morning! Well, what if I told you that you could do yourself a huge favour simply by taking your closet digital with handy closet organisation apps? This will save you a heap of time when it comes to dealing with your closet, plus it's easy to find new, cohesive outfits simply by looking at the digital version instead of the real thing! Here are Refinery29's picks for the best closet organisation apps:
---
1

Omni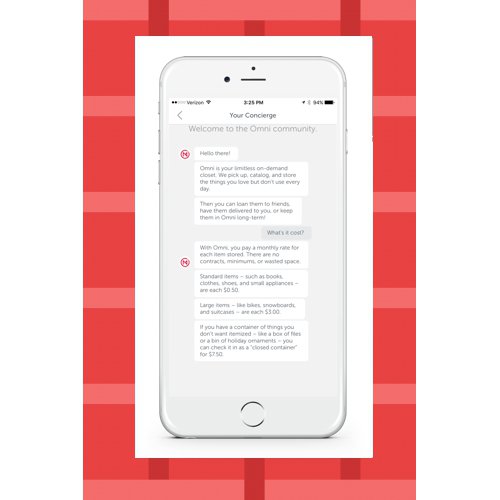 Free to download on iOS
If you know you want to get certain items, such as your bulky winter clothes, out of your closet, but don't want to deal with cataloguing and organizing them, opt for Omni. After scheduling a pick-up through the app, the company comes to your place, picks up your items, and stores them for a small fee (prices start at .50 per item, depending on what you store).
After Omni picks up your items, it photographs and adds them to your account in the app. From there, you can request to have an item returned to your apartment or lend it to a friend at any time.
---
2

Closet Track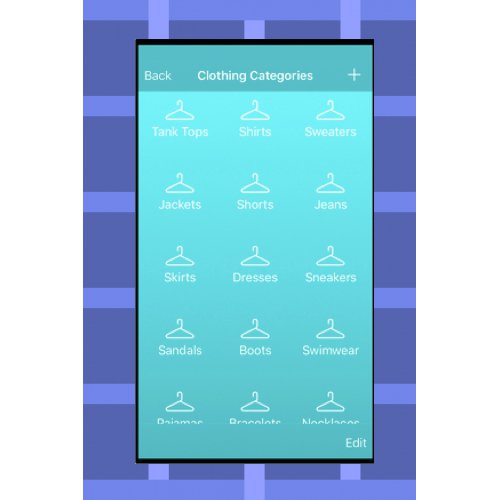 Free on iOS
Closet Track is a simple, but efficient app for cataloging your closet and every purchase you make moving forward. Just add a clothing or accessory category (you can be as general or specific as you'd like) and then snap a photo of each sweater and pair of boots and add them to your inventory.
After you buy something new, keep track of the receipt (you can photograph the paper receipt or screenshot an emailed copy) by filing it into categories by store. That way, if you ever have an issue and need to return an item or file a complaint, you know where your payment details are.
---
3

Stylicious

Stylicious is both a closet organizing app and a shopping app. From the main menu you can access your clothing calendar, see the look you've planned for the day, and check out new arrivals and sales from brands you've bookmarked as your favorites.

For outfit planning inspiration, tap the inspiration tab along the bottom toolbar. You'll access the app's Tumblr page, with suggested combinations of accessories, shoes, and clothes. Then, toggle over to your own clothes or lookbook to mix and match the accessories and outfits you've added.
---
4

Glamoutfit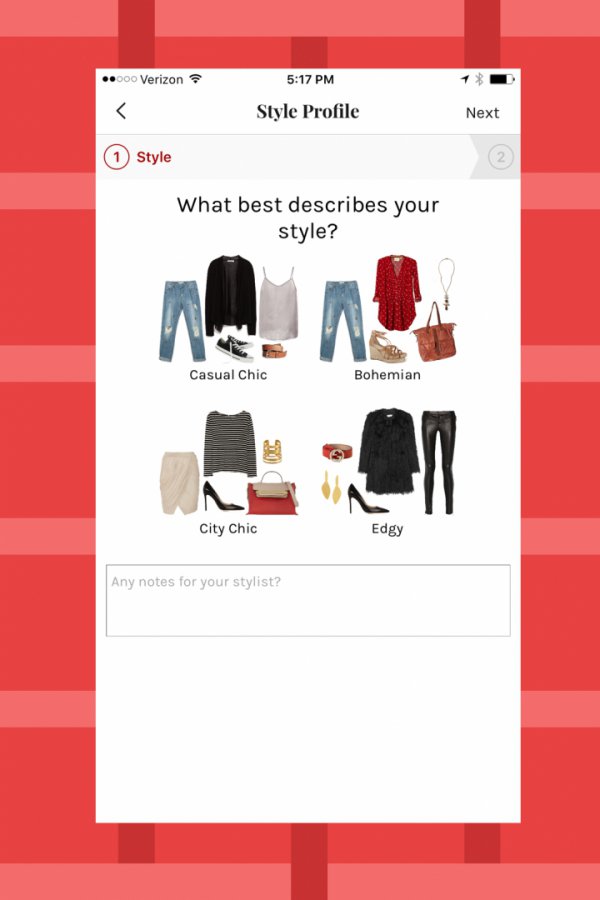 Free on iOS
Before you add clothes to your digital closet on Glamoutfit, take the app's style quiz. This will help to create a "style profile" that other users can reference if and when you ask them to help you put together a look.
When you do go to upload clothes, you can take pictures of each item in your closet or, go the easier route, and import photos from the websites where you bought each item. So, if most of your clothes are from Madewell or Zara, you can just go to those sites and add what you've bought to the app.
Not sure what to wear as the weather cools down? Press the "Style Me" button to have friends or other app users sort through your closet to assemble an outfit. You can add details about what kind of look you're going for, and whether or not it needs to be work-appropriate.
---
5

Closet+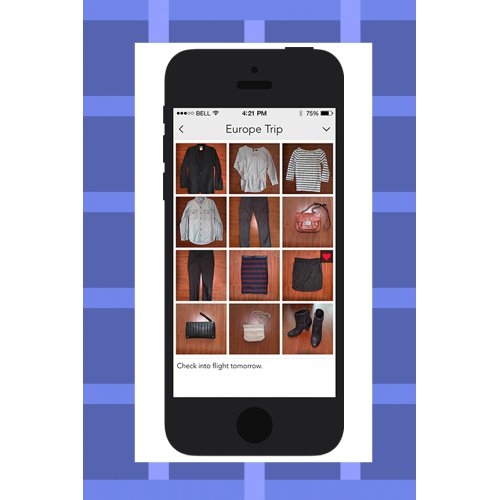 Free on iOS
Closet+ calls itself "the Swiss army knife of style assistants," and it really is just that. The versatile app makes it easy to not only upload all of your clothes, but also to categorize them and sort them into lists. Packing goes much faster when you can plan out different outfits on your phone, and make sure you have everything you need for seven days in Prague.
You can tag clothes for different categories, making it easier to keep track of what's dirty, what's at the dry cleaner, and the dressiness level of various articles of clothing. This way, you won't forget that your favorite LBD is dirty and needs to get dry cleaned in time for the office holiday party.
Anyone who lives in a tiny apartment with no closet space to spare knows the importance of switching out your wardrobe from season to season. Clothes for fall and winter, in — clothes for summer, out. Upload your clothes to seasonally labeled closets so you know what to put on your main hangers, and what to store.
---
6

ClosetSpace

ClosetSpace is both an inspirational and organizational tool. Start off by uploading photos of the items in your closet. You can take photos in the app, choose from your photo gallery, or use Facebook photos. After cataloging your clothes with details about style, brand, and color, assemble and save outfits for future occasions.

Within "My Lookbook" you'll find photos from different bloggers. This is the best part of the app, since you can specify styles for different types of weather, temperatures, and occasions. It's much easier to get an off the cuff night-out idea here than it is when you're scrolling through hundreds of pictures on Instagram.

Schedule your outfits ahead of time so you know when to drop your sheath dress off at the dry cleaner and which days you need gym clothes for. The up-to-date weather feature is also useful for planning beforehand. Although, of course, it's smart to double-check for rainy skies on the day of.

You can also sync this calendar with your Google account, so you know which days you can dress down for work and vice versa.

In the same way that you can search blogger looks by occasion, you can also tag your outfits for different events. When you're going to a work dinner with your boss you won't be frenzied about what to wear, since you'll have a whole list of pre-assembled options to choose from. Your closet is your oyster.
---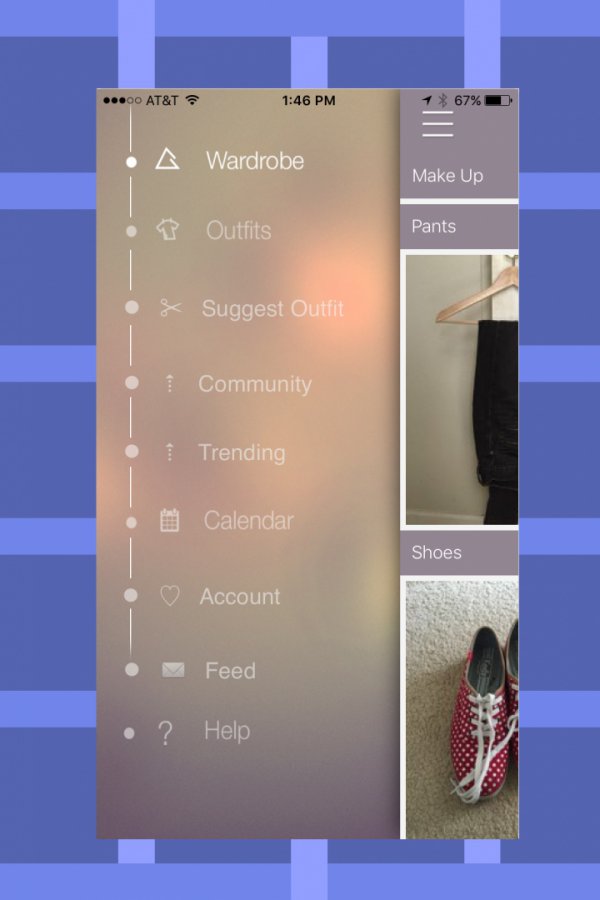 Free on iOS
Pureple is a mauve-hued wardrobe organization app that offers a lot of useful features, including organizing apparel and makeup, building outfits, sharing them, and adding them to a calendar so you know what you're wearing when.
You can add images to your digital wardrobe via a webpage, your phone's camera, or from your photo library (which is what I did). When you add something, you can select a category for it to be added to, such as tops, pants, shoes, or accessories. Items are organized and listed by these categories in the app's main Wardrobe page.
From there, you can scroll upward to add more details about an item. You can choose what sort of occasion it's best for (defaults include night, school, special occasion, or weekend, but you can add your own options, too) and what time of year it's most suited to. You can also add information about the size, brand, and its color. From the Wardrobe screen, you can use this information to sort your clothing. Unseasonably warm day among dreary winter storms? Check out what's buried at the back of your closet by filtering for work appropriate wear for spring.
The color, occasion, and clothing item type can also be used in the app's surprisingly good Suggest Outfit feature. While I uploaded a handful of clothing items I wear all the time, it managed to find some new combinations I'd never even thought of making. You can also create and save your own outfits, and share creations with Pureple's public community, or just your circle of friends.
Overall, Pureple's features and ease of use make it an excellent choice as a closet organizing companion, but I do find its navigation slow and more cumbersome than on a lot of modern apps. Since the app is free, you do get shown occasional ads, but you can remove those by creating an account and making an in-app purchase.
---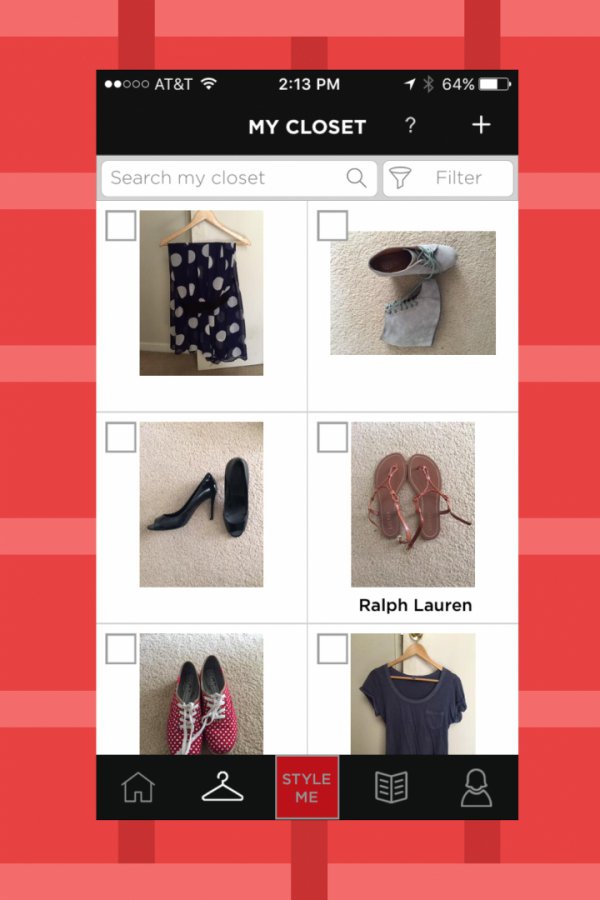 Free on iOS
Stuff N Style has a similar premise to Pureple, but with a different style of navigation and intent. Where Pureple immediately organizes your closet items by category, Stuff N Style, at first glance, organizes your virtual closet with less care than your real closet (items are just listed in reverse chronological order of how you added them). The overall app organization is familiar — Instagram-style, with five options along the bottom for getting around the app, and a plus sign in the upper right for adding items to your closet.
When you add an item, you can tag it to what category it belongs to, add the brand name, and what color it is. Also, you can enter hashtags, which you can use for sorting later. When you choose a category such as "Top," it will give you more detailed options you can select such as "tank" or "blouse" (no such option for shoes, though.) The hashtags are a nice touch for searching and organization — I added options such as fun, comfy, sheer, and breezy to various items. Filtering closet items could be buggy, though. Sometimes, once I added a filter, I was unable to clear it, forcing me to close and restart the app.
Stuff N Style lets you build outfits collage-style in the app, which you can then share to its community at large, or slap on the calendar so you know what you're wearing for the coming week. By tapping the Style Me button at the bottom of the screen, you can also request an actual stylist to take a look at your wardrobe.
---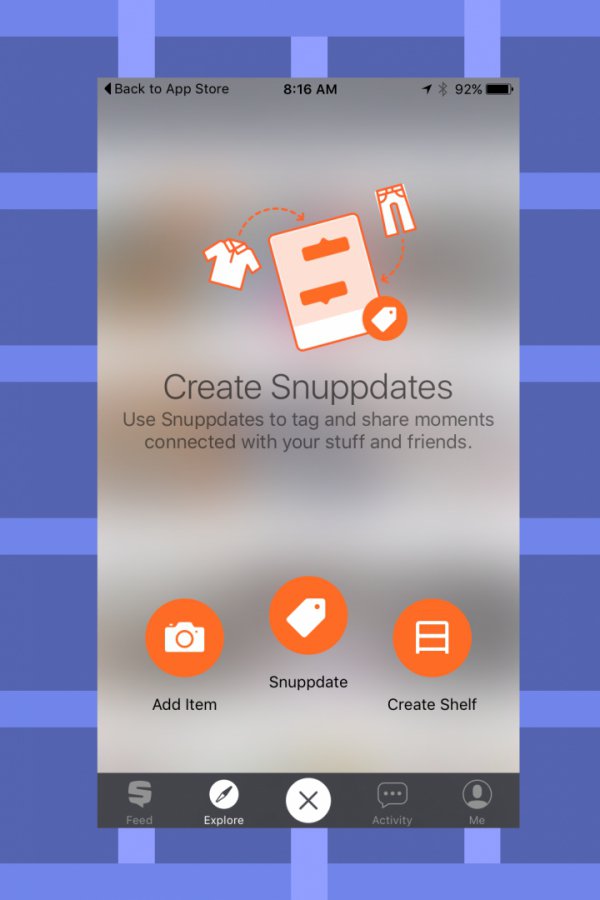 Free on iOS and Android
Snupps helps you catalog and organize anything in your life, whether it's an item in a drawer, things you want to sell on eBay, or a packing list for an upcoming trip. You take pictures of the items you want to add, and then store them in virtual shelves (which you can name and customize). If you want to show off a collection, you can make your shelf public for friends and followers on the app to see, otherwise, you can keep it private.
Where other closet organization type apps focus on apparel and accessories, with Snupps, you can organize anything. In this example, I have a few shelves, including tops and blouses, and one for food items I'm packing for an upcoming trip that I don't want to forget about. I could just as easily categorize the items in my makeup kit, a toolbox, or the storage container I haven't touched in six months in my closet. You can also move things around — I could create a shelf of "What I'm wearing this week" and another for "Clothes that need to be dry cleaned." Also, I could move items between them so I know when it's time to get my clothes laundered.
If you're looking to share your personal style or collections, or check out others, you can head to the Explore tab to browse what people have posted in a variety of categories. I got some serious shoe envy looking through the Women's Shoes section. You can comment on items to share your thoughts, or ask for more information.
Because of the way Snupps is organized, this app is particularly handy if you and friends swap clothes regularly, and you want to keep track. Or if you buy and sell clothes often, and want to make sure nothing slips through the cracks. The app is fast and well-designed, but, as it's not designed for clothes, it lacks the outfit planning features of some other apps.
---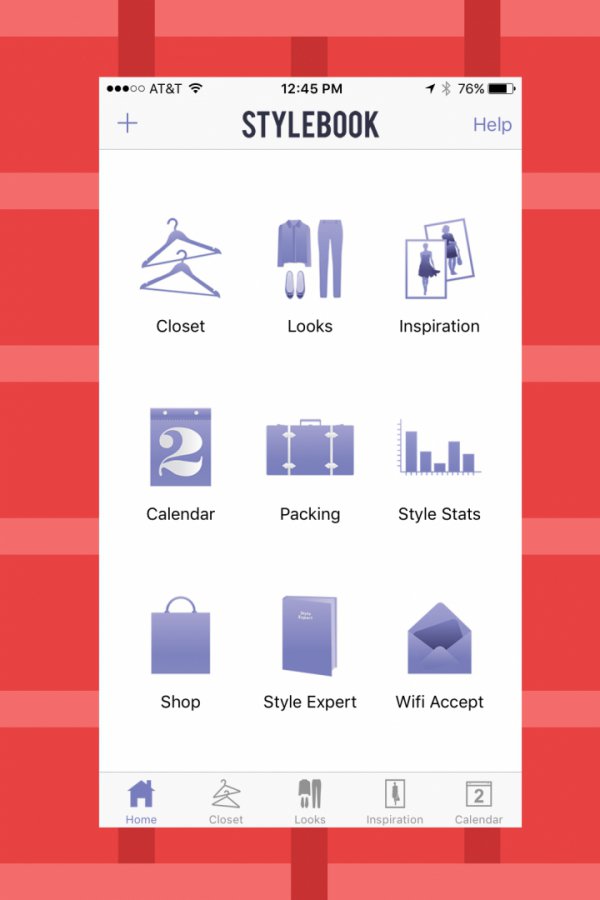 $4 on iOS
If you're going to spend $4 on an app, you expect it to be good, and Stylebook delivers. This isn't just closet organization, this is full blown wardrobe management — and then some. Stylebook lets you create a digital version of your closet, build looks from those items, plan and keep track of what you're wearing in a monthly calendar, and offers a packing list feature so you can plan for upcoming trips. On top of that, Stylebook ties to retailers in-app, so you can buy clothes, add them to your wishlist, or add things that you own to your digital closet. It also has a "Style Stats" section that aggregates data about your wardrobe, from what's most and least worn, to the breakdown of colors in your closet.
Like the other apps on our list, you start the experience by uploading clothing to your digital wardrobe. The app advises you to take photos of items laid flat on a solid color surface (like a bed sheet) that is a contrasting color to the item. When you upload, the app then gives you the option to edit out the background so it's just your shirt (or shoes) sitting on a clean white backdrop — very professional looking. If you're lazy and just take photos of things on carpet like I did, this editing feature still works pretty well.
The clothing addition process itself is more time consuming than with some of the other apps on this list because the uploading process takes multiple steps.
The calendar and metrics that Stylebook offers are of tremendous value. If you plan out and log everything you wear, you can get some insight into your habits. The app will tell you what you wore the most that month and what ended up being the best value item in your closet (given that you entered how much that piece cost). It can also tell you how much your entire wardrobe is worth. If you're looking to make the most of a few expensive staple purchases, this app will help you do it, and assist you in figuring out what's not worth the space!
More
Popular
Recent