Seeing as we all carry our smartphones around all day long, there are a ton of great fitness apps to download that'll give you motivation on the go! It's an easy way to check in on your progress which is crucial to staying on course! Whether you want to lose weight, monitor your daily calorie in-take, or just get some fun workout ideas, these fitness apps are definitely worth checking out! These apps have also revolutionized the ways in which we can all connect to support networks. They link you up with a community of people who cheer you on, coach you, or even add a competitive edge to the process.
---
1

Argus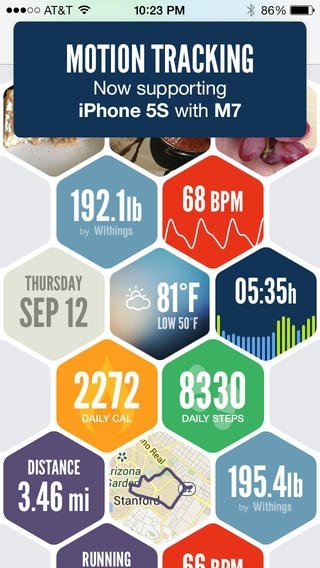 On iTunes: itunes.apple.com
Price: Free
The Argus app is a 24/7 steps and active calorie counter! It uses GPS mapping of running, cycling, and driving and keeps track of your water, coffee, and tea intake. You can even snap photos of your meals to save on the app! Argus is one of the most sophisticated fitness apps as it keeps track and monitors your activities, workouts, food, sleep, weight, hydration, and vitals. All this for FREE? Definitely worth checking out!
---
2

Fitbit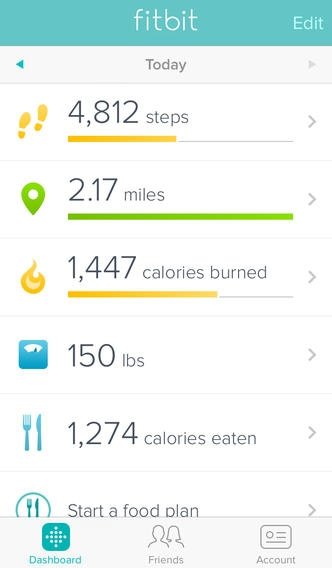 On iTunes: itunes.apple.com
Price: Free
The Fitbit app is free, however, you do need one of their activity trackers! The Fitbit Force and Fitbit Flex are two of the trackers you can look into. If you're not interested in buying the tracker, this app can still be useful to you. Without a tracker, you can still use the Fitbit app and website to count calorie in-take, log your weight, and record your blood pressure and glucose levels. You can upgrade your account to Premium for $49 a year.
---
3

Pump up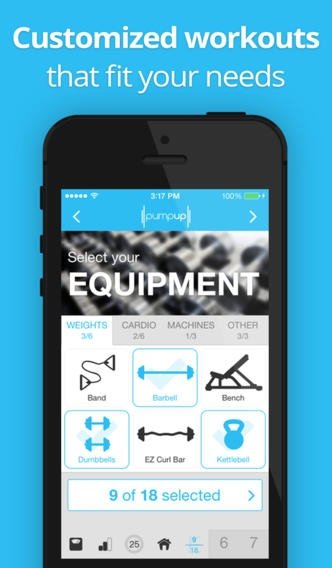 On iTunes: itunes.apple.com
Price: Free
PumpUp is a really awesome fitness coach that's designed just for you. It's a fun way to get active, stay motivated, and see amazing results along the way! All you need to do is choose your fitness goal, skill level, favorite equipment, etc. and PumpUp will design a custom workout for you. If you're working out from home, you can just select that option and PumpUp will still design something for you! The app offers voice coaching, timed breaks, and full instructions to over 500 exercises!
---
4

Fitocracy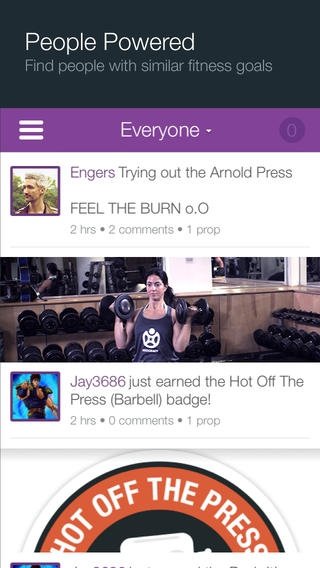 On iTunes: itunes.apple.com
Price: Free
Fitocracy is the ultimate way to make exercise fun! In the app you can track workouts, earn points, unlock achievements, beat quests, and more! The app uses game-like stats which initiates friendly competition and increases your dedication at the gym! The app is very big on encouraging social interaction among its users. You can post a status and find an overwhelming response of support from the app's community!
---
5

Nike+ Running

On iTunes: itunes.apple.com
Price: Free

The Nike+ Running app tracks all your runs and helps you reach your goals. You'll get the measurement and motivation you need to run like you've never run before. Nike+ gives you training programs, coaching expertise and daily workouts. It's definitely an awesome app any runner should have.
---
6

Lose It!

On iTunes: itunes.apple.com
Price: Free

If you're looking to lose weight, Lose It! Is definitely an app you should look into. The app helps you set a daily calorie budget, track your food and exercise, and stay motivated. The app connects you to the people, devices, and food information that you need to achieve your weight loss goals.
---
7

Sworkit Pro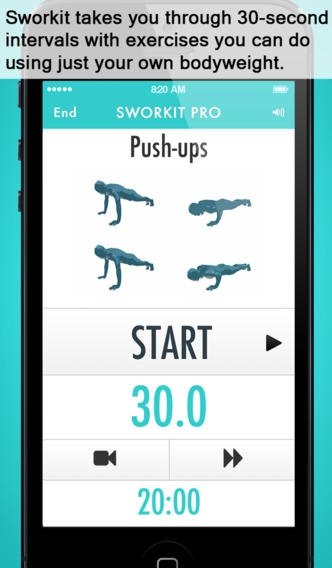 On iTunes: itunes.apple.com
Price: .99 cents
Sworkit is the best app for circuit-training exercises. It takes you through 30-second intervals, and you need to try and keep up! Although the app isn't free, the .99 cents are well worth it!
Well, there you have it! These are just seven out of many awesome fitness apps you should be looking into it. Which is your favorite to use?
More
Comments
Popular
Recent